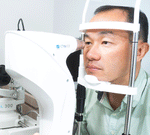 MORE THAN A STANDARD EYE CHECK
Reading letters off a chart can detect some changes in vision, but a comprehensive eye exam provides a more holistic assessment of your overall eye health.
EARLY DETECTION PRESERVES SIGHT
With age, eye related issues become more common. In Spectacle Hut's comprehensive eye exam, our experienced optometrists use a series of advanced equipment to detect concerns early and provide timely advice.
Comprehensive Eye Exam
BOOK A COMPREHENSIVE EYE EXAM TODAY
A comprehensive eye exam is crucial for your well-being. Although you might be seeing clearly, our comprehensive eye exam ensures that you are also seeing healthily. Book your Comprehensive Eye Exam appointment and take charge of your eye health today.