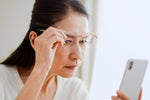 Understanding Presbyopia
Presbyopia is a vision condition characterised by the gradual loss of the eye's natural lens' ability to change shape and focus on near objects or distances2.Unlike other common vision problems like myopia (nearsightedness) or hyperopia (farsightedness) which are often present from a young age, presbyopia typically becomes noticeable when one reaches their forties. It affects everyone as they age, and understanding its development is essential for effective management.
Symptoms of Presbyopia
Presbyopia manifests through several symptoms, affecting daily life and tasks that demand clear near vision. These symptoms may include the following:

Difficulty reading small print, especially in low-light conditions.

Stretching of arms to read print materials such as a menu, or text on mobile devices.

Eye strain and discomfort during or after reading.

Frequent headaches, particularly after close-up tasks.

Blurred vision when transitioning from near to far objects and vice versa.
Debunking Common Myths About Presbyopia
Myth 1: I can buy off-the-shelf reading glasses to read.
While over-the-counter reading glasses can temporarily alleviate the symptoms of presbyopia, they are not customised to your specific vision needs. Off-the-shelf reading glasses provide a fixed prescription for both lenses, which may not address all your visual requirements accurately3 as your prescription often differs between both eyes.
Myth 2: Wearing reading glasses or progressive lenses will increase my reliance on glasses and cause my presbyopia to worsen.
Wearing reading glasses or progressive lenses as prescribed by an eye care professional will not cause presbyopia to worsen4. Instead, it will help you to see clearly up close without straining your eyes. Properly prescribed eyewear can significantly improve your quality of life.
Myth 3: Myopia cancels out or prevents presbyopia.
Myopia, commonly known as nearsightedness, involves difficulty focusing on distant objects. While myopic individuals may experience less trouble with close-up tasks, they are not exempt from presbyopia5. In fact, the two conditions can coexist, requiring appropriate correction for both near and far vision.
Exploring Solutions for Presbyopia
Fortunately, several effective solutions are available to manage presbyopia and restore clear near vision:
Prescription Reading Glasses: These customised glasses are tailored to your specific vision needs and provide clear near vision for reading and other close-up tasks6.
Progressive Lenses: Unlike traditional bifocal lenses, progressive lenses offer a seamless transition from near to far vision, eliminating the visible line found in bifocals7. They provide a more natural visual experience.
Contact Lenses: Multifocal contact lenses correct presbyopia, allowing wearers to see at various distances without the need for glasses8.
By working with an eye care professional and choosing the right corrective measures, you can maintain excellent vision and continue enjoying life's many visual moments, regardless of your age.
How VARILUX® Helps with Presbyopia
All progressive lenses have some peripheral distortions caused by changes in curvature across the lens surface, which distort the way you see and reduce the clarity of your peripheral vision when looking through the lenses. 
VARILUX® lenses provide sharp vision at every distance allowing you to see near, far and intermediate distances seamlessly with ease. Varilux progressive lenses feature W.A.V.E. 2 Technology9, which:
Identifies and eliminates distortion based on the prescription. 

Customises wavefront correction to the patient's needs.
Wearing VARILUX® lenses allows you to multitask effortlessly, provides sharp vision in three crucial distances and enables you to adapt quickly. Also, with reduced distortions, these lenses enable you to instantly focus in any situation, ensuring you always have clear vision when you need it.
For more information on VARILUX® lenses, click here or approach our staff at your nearest Spectacle Hut store.

---
← Older Post Newer Post →